News
Featured People




PRECISE received a $6.1 million, five-year grant from the Office of Naval Research for the ASPIRE project.
February 7, 2018
Penn Engineers Receive $6.1 Million Grant from Office of Naval Research to Reduce Software Complexity.
Featured People





PRECISE is Inventing the Interconnected Future
December 14, 2017
Featured People

Mobility21 is Making Biking Safer with Eye-tracking Technology
December 13, 2017
Rahul Mangharam, Associate Professor and Mobility21 co-director, discussed the research group's efforts to develop a "driver's license test" for autonomous vehicles with Philadelphia Inquirer reporter Jason Laughlin.
Featured People

Insup Lee Named ACM Fellow
December 11, 2017
Insup has been named a Fellow of the ACM! The honor is richly deserved for his research accomplishments and community leadership.
Featured People

Rahul Mangharam is featured in Philly.com's "Can Driverless Cars Be Safe? Grand Theft Auto Helps Penn Scientists Find Out"
December 2, 2017
Our Mobility21 research was featured in the Sunday Inquirer!
Featured People

Rajeev Alur Receives Distinguished Alumnus Award (DAA) of the Indian Institute of Technology Kanpur
October 25, 2017
Featured People

Insup Lee appointed as Co-Director of Penn Health-Tech (PHT)
September 29, 2017
SEAS and SoM has launched a center called Penn Health-Tech (PHT), on May 2, 2017, which is co-directed by Brian Litt and Insup Lee with strong engagement by Mark Turco at PCI.
Featured People

Kuk Jang Won Best ESE PhD Colloquium Award
September 22, 2017
Congratulations to Kuk for winning the Best ESE PhD Colloquium Award!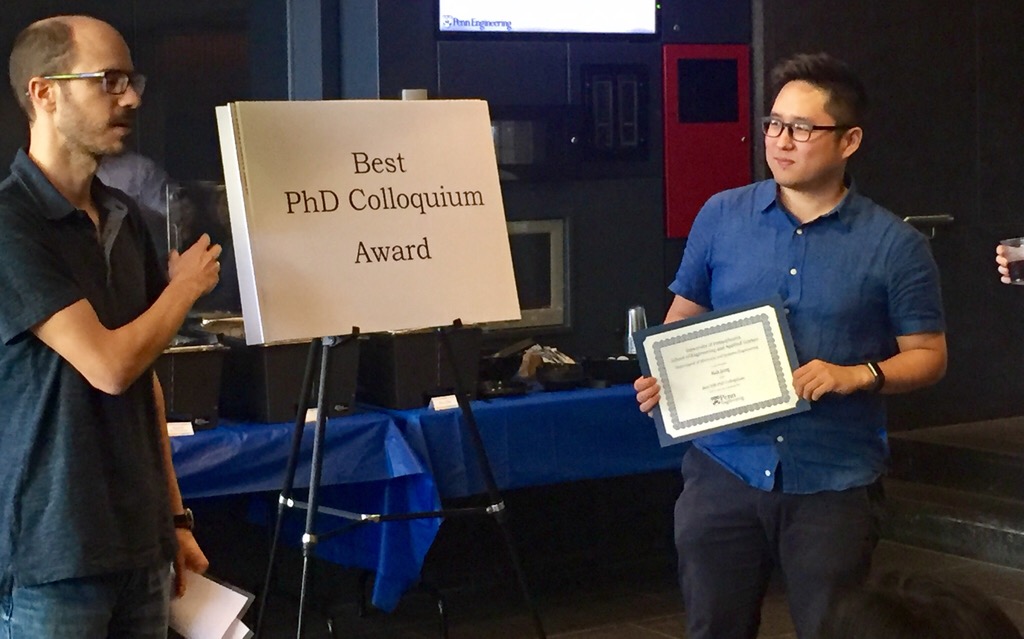 Featured People

Zhihao Jiang joins Toyota InfoTechnology Center, CA
August 20, 2017
PRECISE PhD student, Zhihao Jiang, advised by Rahul Mangharam, will join Toyota InfoTechnology Center in Mountain View, California. His team works on Connected Vehicle Services. We wish Hao the very best!
Featured People



Achin Jain, Madhur Behl and Rahul Mangharam won ACC Best Paper award for their work on Energy Systems
August 20, 2017