News
Featured People

PRECISE's STEM Outreach: Empowering Girls to Learn About Cybersecurity, Technology, & Electronics
March 9, 2019
Cyberjutsu Girls (@CyberjutsuGirls) tweeted at 1:19 PM on Sat, Mar 09, 2019:
Today we're learning how cyber & medicine overlap in a new biomedical workshop: "Music from the Heart!" Our ladies are using @adafruit Huzzah to monitor heart rates & compete in a "rock band challenge" to see who can control them! Thanks to @IoMTprof for instructing! #GirlsInSTEM https://t.co/Rp20gT2adP
Featured People

EMBS alum, Shreyas Shibulal, has started Micelio (a fund dedicated towards investing in EV startups)
January 10, 2019
Micelio is Shreyas Shibulal's new early-stage fund which will also be building a design discovery studio apart from investing in startups in the electric vehicle space.  
Featured People

Grayson Honan awarded ESE Best TA Award 2017-2018
September 4, 2018
Congratulations to Grayson Honan!  He is awarded the ESE BEST TEACHING ASSISTANT AWARD for the 2017-2018 Academic Year.  Teaching is a task that says a lot about who we are. Throughout his two-year academic career, Grayson has always went out of his way to help those who need it.  Thank you, Grayson, for working diligently to ensure the next generation of engineers are posed to make a difference.
Featured People

Nimit Singhania won the Radhia Cousot Young Researcher Best Paper Award at the Static Analysis Symposium 2018
September 1, 2018
Nimit Singhania won the Radhia Cousot Young Researcher Best Paper Award at the 25th Static Analysis Symposium (SAS 2018) that took place in Freiburg im Breisgau, Germany on 29-31 August 2018. In his paper titled "Block-Size Independence for GPU Programs" (joint work with his PhD advisors Rajeev Alur and Joseph Devietti), he proposes a new property called "block-size independence", and an accompanying compiler analysis, which guarantees that adjusting the block-size of a GPU program does not change what it computes; but tuning the block-size can result in significant performance speedups, especially as code is moved to different kinds of GPUs.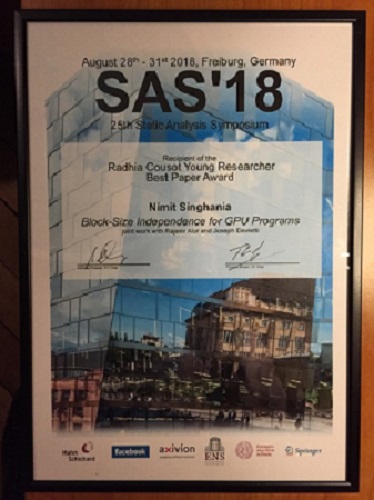 Featured People





Insup Lee and his team won Best Paper Award at ISORC 2018
June 3, 2018
Dagaen Golomb, Deepak Gangadharan, Sanjian Chen, Oleg Sokolsky and Insup Lee are the recipients of the Best Paper Award at the 21st IEEE International Symposium on Real-Time Computing (ISORC 2018) that took place in Singapore on 29-31 May 2018. In their paper titled "Data Freshness Over Engineering: Formulation and Results", they propose a method to determine the periods of tasks in chains of arbitrary length while satisfying end-to-end freshness constraints with only few assumptions regarding the scheduling algorithm used.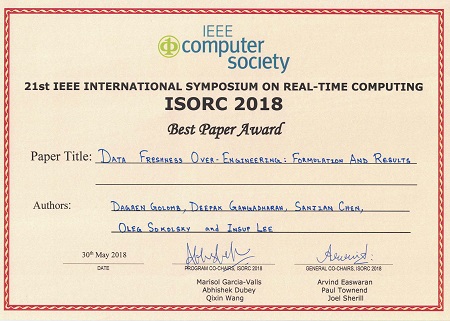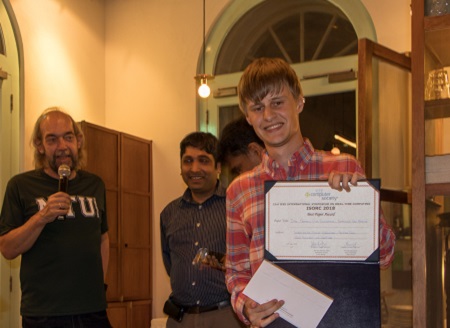 Featured People


Arvind Nandanahosur Ramesh

Three Embedded Systems (EMBS) students win the 2018 Penn Engineering Masters Awards
April 26, 2018
Congratulations to Arvind Ramesh, Nitesh Singh, and Grayson Honan on their awards for the significant contributions to teaching, and improving the academic experience of everyone at Penn Engineering.  Grayson was presented with his "Honorable Mention" Certificate at today's Penn Engineering Masters Awards Appreciation Lunch.  Arvind and Nitesh will receive their "Outstanding TA Award" during the 2018 Awards Recognition Ceremony scheduled for April 27th.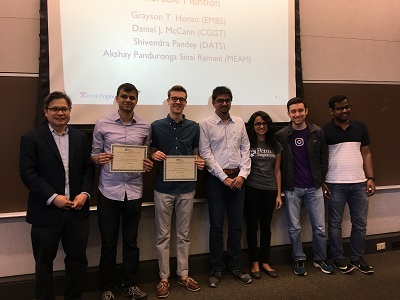 Featured People







Arvind Nandanahosur Ramesh


Penn is the 2nd Runner-Up at The Collegiate 2018 MITRE's Embedded Capture-The-Flag (eCTF) Competition
April 19, 2018
The eCTF Competition took place during the entire Spring Semester and was hosted by the MITRE Corporation.  Nine students from Embedded Systems (EMBS) and 2 from CIS participated in this competition which featured 14 other universities.  What makes this attack-and-defend competition different from other CTF competitions was that the team actually built a real secure ATM system with chip-and-PIN on an embedded platform.  Halfway through the semester, the team traded ATM systems with the other teams and then the fun began.  Points were earned for both defending our system and attacking other systems.  After the dust settled, Penn's team finished in third place, behind Virginia Tech and Tufts, but ahead of MIT.  Penn's students also earned the "Golden Flag" award for executing the highest valued attack, which was executed against the MIT team and resulted in a complete data breach of their database.  This was quite an accomplishment given that it was Penn's first year competing.  We look forward to next year's competition, where we hope to build on what we learned this year!
Congratulations to the following students:
Manvendra Sharma (EMBS)
Sourav Bandyopadhyay (EMBS)
Mugdha Bavkar (EMBS)
Michael Cipolla (CIS undergrad)
Luis Garcia (EMBS)
Shalmali Joshi (EMBS)
Philip Perilstein (EMBS)
Arvind Ramesh (EMBS)
Justin Swirbul (CIS undergrad)
Advisors:
James Weimer, Ph.D. 
Hung Nguyen, Ph.D.c.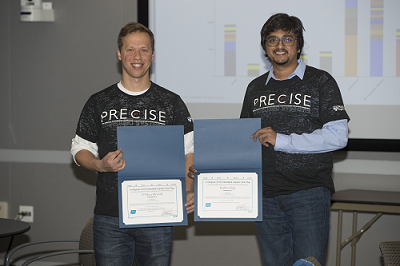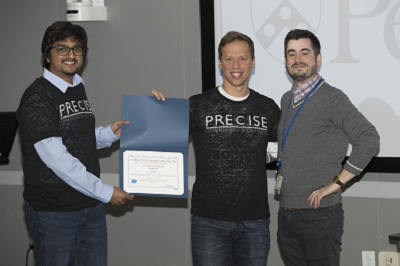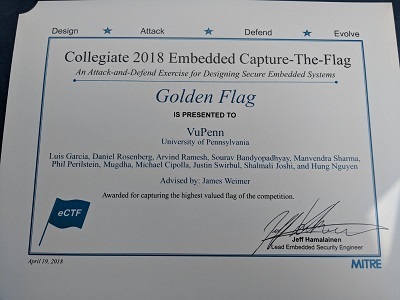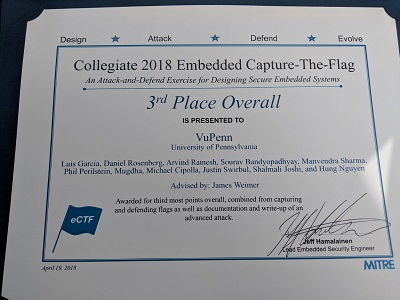 Featured People




Rahul Mangharam and his team won ICCPS 2018 Best Paper Award
April 13, 2018
Rahul Mangharam, Manfred Morari, ESE alum Truong Nghiem, and current ESE PhD student Achin Jain are the recipients of the Best Paper Award at the 9th ACM/IEEE International Conference on Cyber-Physical Systems (ICCPS) that took place in Porto, Portugal on April 2018.  ICCPS is part of CPSWEEK, which is one of the largest conferences in the broad IoT space.  In their paper, they propose the use of Gaussian Processes for learning control-oriented models.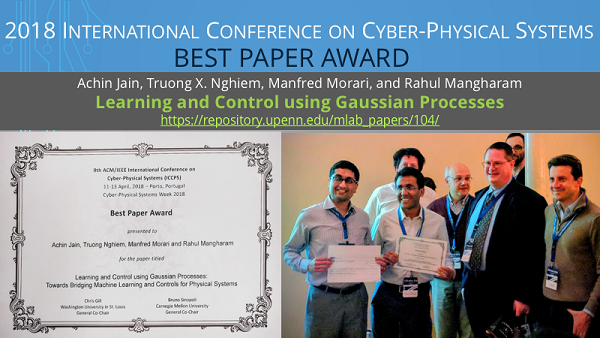 Featured People

Linh Thi Xuan Phan wins NSF CAREER Award
March 12, 2018
Linh Thi Xuan Phan has recently won the prestigious Faculty Early Career Development (CAREER) Award from the National Science Foundation (NSF), for her research project, "Resilient Execution with Bounded-Time Recovery (REBOUND)." The award carries a value of $475000 over a five-year period.
Featured People

PRECISE is Building Better Software
February 27, 2018
Professor Naik's research helps programmers and developers build higher-quality software...