Alumni Spotlight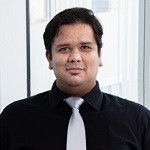 Tell us about your current position.
I work at the Link Lab at the University of Virginia. It is a facility designed for collaborative, interdisciplinary research and training in cyber‐physical systems. The lab provides enormous benefits for an increasingly connected society and helps accelerate the deployment of cyber‐physical systems. We will leverage the greater focus, efficiencies and cross-pollination of ideas made possible by proximity as a means of jump-starting advances in the field.


What is your technical background and research interest?
My research develops the foundations of cyber‐physical systems. This involves finding analytical and practical solutions to problems of modeling, control, simulation, operation, and implementation of CPS. In particular, I'm interested in solutions for data‐driven cyber‐physical systems. This work is at the confluence of machine learning, control systems, embedded systems, optimization, and statistics. Applications span from energy‐efficient buildings, demand response, and smart cities; to industrial automation, advanced manufacturing, autonomous vehicles, internet of things, medical devices, and model‐based clinical trials.
What was your involvement at PRECISE?
I was a part of the PRECISE group throughout the duration of my PhD at Penn. Being a member of PRECISE definitely helped in launching my academic career. The PRECISE team played a key role in shaping my thinking about my research and always provided encouraging feedback, with ample opportunities to explore new ideas. PRECISE has a friendly, close‐knit, and a constructive environment, filled with all good people with whom I'll be collaborating with many more years.